I love cooking with cast iron. To my way of thinking, cast iron, especially Dutch ovens, have a place in the survivalist stockpile by virtue of their utility, durability, and versatility. What I cannot freaking stand about cast iron, though, is seasoning it.
Ever get a roasting pan or some other metal bakeware that winds up getting some grease or oil baked onto it to the point that it leaves a hard, black, spot on the metal that is virtually impossible to scour off? Well, the idea is to do that on purpose to the piece of cast iron. Most resources tell you to clean your cast iron really well, slather it in Crisco or some other oil/fat, wipe it down, and bake it on high heat in an oven to season it.
Does. Not. Work.
I tried going through cycles of heat pot, wipe down pot with oil, bake in oven, let cool, repeat, repeat, repeat. Marginal results. Additionally, unless you're cool with your house smelling like a dumpster fire behind KFC you really want to do this sort of thing outside.
Which brings us to an experiment I figured I'd share with you all.
Yeas ago, someone was nice enough to buy me one of these for my birthday. Although Lodge sells their stuff as pre-seasoned, you'd be a fool to take their word for it. I went through various techniques to try and season it and nothing ever did the trick just right. It was a shame too, because smokin' hot cast iron is just the thing for maintaining temperature when you drop a pound of cold diced chicken and vegetables into it.
I had read several articles on the best method to season cast iron and, more importantly, what fat/oil to use. After reading a bunch articles on the topic, this one made the most sense.
So, I'll use the flax oil. Now what? Well, I need a heat source. I was originally going to use my propane barbecue but wanted a more direct application of heat to the metal. Then I remembered I have my Volcano stove with propane conversion in storage. I set up the stove, cranked it up high, sat the cleaned wok on top of it and waited for it to heat up. While I waited, I took a small patch of towel material and my cooking tongs and got ready to swab down the wok. When the wok was sufficiently hot, I dipped my swab in the flax oil and wiped down the entire inside of the wok..making sure not to use so much oil that it pooled in the bottom of the wok. Smoked like heck, lemme tell you. Once I had completely coated the inside of the wok, I stood back and waited for the smoke to clear. After five minutes the smoking had virtually ceased, so I swabbed it out again. More smoke. Wait five minutes. Repeat. I did this about eight times and then finally let it cool. Tried it out this afternoon and it worked great. Threw it on the burner, poured in some oil, and stirred up some chicken. Nothing stuck to the wok, and clean up was the usual boil-water-in-it-to-loosen-things-up-and-wipe-it-out procedure. A quick wipe with an oily paper towel and its good to go.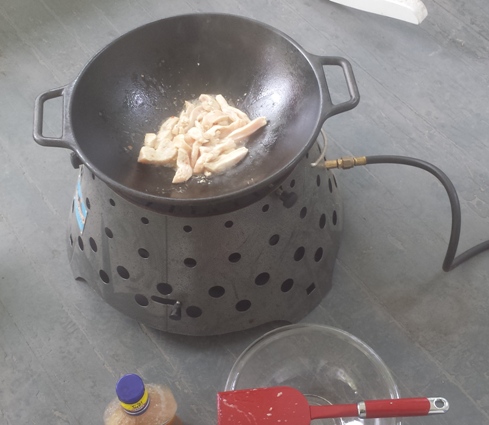 By the by, if youre going to start over and reseason a piece of cast iron, here's the method I use to remove seasoning. Works great, just takes a little time.