Ugh…'real life' has intruded lately, making my posting a little more sporadic than usual. I'm doing a sort of 'property manager' thing for my landlord. In exchange for a deal on the rent, I'm keeping an eye on the building, vacuuming the common areas, showing apartments to prospective tenants, etc.
The other day a tenant told me that the lock on the front door of the building was not working. Sure enough, the deadbolt would work regardless of the entry code you entered. The tenant mentioned that he had encountered people in the basement of the building where the laundry room is who did not belong there.
The basement of the apartment building is a rats warren of storage spaces, closets, not-up-to-code living spaces, and generally a great place to hide. So…grab the 870 and a flashlight and lets go look for squatters.
As it turns out, while I did not find any squatters I did find their nest: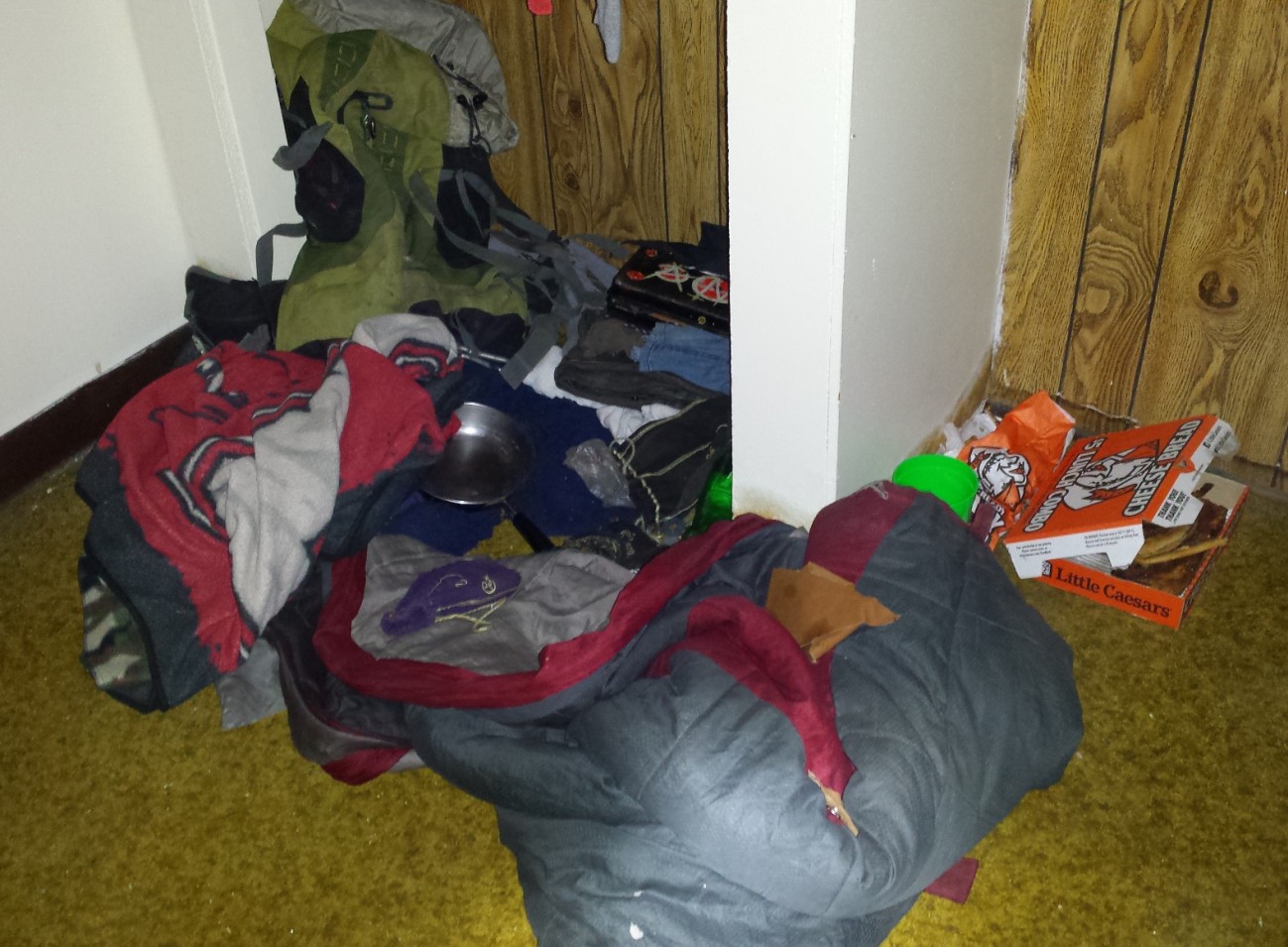 A backpack, sleeping bad, spoiled food, and some personal belongings. All of which smelled horribly of body odor. In addition to the gear, there were a couple notebooks where the parasite had written about his hitchhiking and riding the rails across the US. The food labels were dated around Christmas so this guy left his gear and never came back, apparently. I'm guessing he either got tossed in jail or did something that made him leave town in a hurry.
The fact he was chronicling his journey leads me to believe he's more of one of these 20-something hipster-homeless guys rather than some Sterno-chugging genuine homeless wretch.
So..if you're going to go on a grand adventure, what does the parasitical traveler take with them? Theres a decent but no-name backpack, a Slumberjack sleeping bag, some clothing, a bag of small rocks, a small metal tin full of 'slogan' patches you'd sew on clothing, some smoking materials, snack wrappers, and not much else. Im guessing the truly valuable things like money, ID, a knife, etc, are things this guy kept on his person.
So what to do? Well, this crap goes in the dumpster. (Although I'll keep a couple carabiners that are clipped to the pack.)
Clearly what is going on here is that someone discovered that the basement was nice, warm, and relatively unoccupied. When the temperature got too cold, they hid out in an out-of-the-way room in the basement. Rent-free. This is why we can't have nice things.. because there is always some idiot who thinks that their need for something trumps your ownership of it. The landlord pays taxes on the building, pays for repairs, takes the financial hits of irresponsible tenants, tries to keep the place running, and some waste of skin decides that since its a cold night, perhaps that basement should be made available for those who need it.
This is the problem with the world today. Too many people figure that because they need something they are entitled to have it, at the expense of others. The most annoying case of it I see now are people who owe money on student loans and because they can't pay them back (usually due to spending money on a course of study with no real financial future…Gender Issues In Renaissance Art, for example) decide that those loans should be 'forgiven'. Geez, man..I'd love to have the .gov cut me a check for $50k and then have them forget about it when I claim it was predatory lending.
I'm probably feeling bitter because tax season approaches and, as a self-employed person, I get the full treatment.
Unfortunately, people like this are going to be exceptionally pervasive during any true crisis. They'll demand that you 'do something' on their behalf because you have 'all that [food/fuel/water/medicine/clothing]' and they don't. Never mind that their deficiencies could have been easily remedied if they'd actually done more thinking about the future and less pot-smoking down at the park with their buddies. Worse, they convince their fellow-travelers in .gov to give some legal standing to these demands for 'fairness'.
These squatters are just symptomatic, but extremely emblematic, of the greater issue. Sadly, it is one that I don't think I'm going to be able to resolve on any level greater than the immediate surroundings of the building I'm maintaining.