Remember when the stewardess gives you the speech about when the oxygen masks fall from the ceiling you're supposed to put yours on first and then assist small children and others? Why is that? The answer is simple: if you put your mask on first, then you're in a position to help more people.
Same thing applies with this post. Before you go buying magazines to resell to the unprepared masses, make sure you have your own needs more than taken care of.
For those of you who may not remember the great Assault Weapons ban of '94-'04, you were limited to 10 round magazines unless your magazine was made before 1994. As a result, much like the '86 machine gun ban, the prices of those items went up, up, and up as time went on and their availability went down, down, down. $600 (in 1999 money), was not unheard of for a Betamag. Glock mags were in the $75-100 range, AR  mags could be around $30-40, and exotic stuff like Valmets, SIG, and HK were easily over a hundred bucks a mag. In short, it was like everyone was selling at Cheaper Than Dirt panic-prices.
Don't believe me? Let me dial up the Wayback Machine and, lo:
Who made money? Guys who were sitting on a bunch of magazines. I remember being able to buy M1 carbine mags from J&G Sales for $0.86 each in 1990-1991. Four years later those were $20+ magazines. Colt manufactured 20-rd AR mags were about $4-5 in 1989. Wasn't long before they were almost $50 ea.
.Is it going to happen again? I think so. Maybe not this election cycle, maybe not on a national level, but I do think it's going to happen. I'd be thrilled to spend $100 for 30 G3 mags right now and sell them 'afterwards' for enough to pick myself up an ICOM-7200 or other expensive toy.
What would I buy to take advantage of the panicked masses yearning to be armed? Well, the smart thing to do is appeal to the most common denominator. Yeah, the Valmet mag you pay $45 for today is going to be worth $100 but by the time you sell it you could have sold a hundred AR or Glock mags. 'Boutique' and 'niche' stuff like the exotics will sell, and it will sell at a great price, but it won't sell nearly as often.
What the most common rifle in this country for guys like you and me? AK-pattern and AR-style rifles. Sure there are guys with FALs, AUGs, HK93s, and the like out there…and those mags are worth a lot and will be worth even more…but you'll sell a lot more of the common stuff. AR and AK mags are where I'd put my money for rifle mags. Magpul Pmags and known-brand GI aluminum mags (Okay, CProducts, etc) would be my choice. While you might get a good deal on Lancers and other stuff, they're small enough people won't recognize them and no one wants to buy the 'off brand' if they don't have to.
For pistol mags its Glock, XD, and M&P. Beretta mags might be a good choice but there will be a lot of military ones floating around. Again, stick with the OEM stuff if you can. (Although I'll probably go with the Magpul Glock mags). The 9 and 40 mags will be the most common and those would be where I'd focus.
In .22 magazines all you need to know is that Ruger 10/22 mags will outsell every other .22 rifle magazine combined. I've posted about them before…get the Butler Creek mags (or even the Eagle mags) and buy as many as you can. You'll never regret a drum full of those things.
Interestingly, while pump action shotguns usually (though not always) skate around 'assault weapons' bans, there may be some forward-thinking statists who will want to see your 870 limited to five rounds or some such. While I wouldn't go very deep on them, a handful of factory extended mag tubes and springs might turn a tidy profit later.
Of course, if a future ban doesn't occur (and I wouuld be thrilled to be proven wrong) you still wind up with a nice amount of mags to last you the rest of your life…and you've traded opportunity cost against inflation in terms of what you might have to pay for the mags in the future. Win – win. But, as I said, you really want to make sure you have your own needs taken care of before you start 'speculating' in magazine futures.
Interestingly, as I was typing this up, this little jewel from MGE Wholesale landed in my mailbox: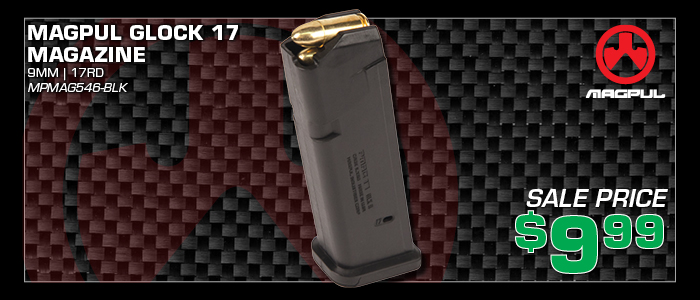 Go figure.