It's not exactly a holiday, but every so often you need to crank up the Honda EU2000. There are probably a few things that need to be drilled into everyone's head at an early age…and one of those things should be 'take care of your gear'. I'd bet money that almost no one here checks the air pressure in their spare tire on a regular basis.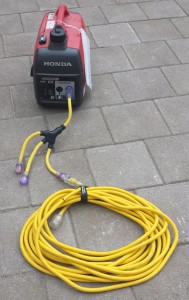 The EU2000 has been, for my needs, an awesome product. Relatively quiet, it sips gas, is man-portable, and at around $1k isn't going to break the bank too badly. Last summer when we had our hellaciously bad windstorm I was able to sit here with computer, internet, cable TV, cold beverages, and operational security cameras….all thanks to the little Honda and some foresight.
Speaking of foresight. The generator by itself isn't enough. Accessories include, but are not limited to:
Lock and cable
Heavy-duty, contractor grade extension cords.
Fuel funnel
Extra filters
Fire extinguisher for refueling process
Dedicated supply of stored gas
Printed copy of startup/shutdown instructions fixed to generator
Hardigg case to hold everything
Flashlight/area light for initial setup
And a few other minor things
Everything fits in a happy little Hardigg case to keep stuff clean, dry, and protected. I use Evernote to keep track of preparedness-related stuff, so I'll make an entry tagged 'generator' and set an alarm to remind me to do this again in another month.