Imagine, if you would, you have a bag filled with marbles. Half the marbles are black and half the marbles are white. Each time an event happens that has an even chance of outcomes, a marble is pulled from the bag. Black marble and things don't go your way. White marble and you get the outcome you want. Seems fair, right? But what if you get three white marbles in a row? Now there are more black marbles than there are white marbles in the bag…the odds of you pulling a black marble have increased and the odds of you pulling a white marble have decreased.At some point, you'll have used up all the white marbles and all that will be left are black ones.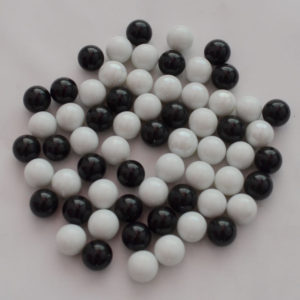 This is my own highly suspect and bizarre interpretation of how 'luck' works.
Succinctly, there's a balance….you have ten good things happen, you're going to have ten bad things happen. When you tilt the odds in your favor, youre tilting the odds elsewhere against you. Now, you can tilt the odds in your favor…in our marble example you could look in the bag and pull out the white marbles. But, if you do that, you cannot change the fact that the remaining marbles will be the black ones. So, you may be able to get the positive result that you want, when you want, but at some point you'll have to balance it out by having nothing but black marbles left to draw.
Today I had two happy incidences of good luck. First, I got a check from Wells Fargo saying 'sorry we opened a credit card account in your name without your permission'. Yay..grocery money for the month. Second, when buying groceries I found remaindered meat that was also buy-one-get-one-free, which meant that the large amount of chicken and fajita fixings I bought was not %50 off, but rather %75 off in the end.
I am now terrified that something truly crappy is waiting in the wings to balance all this out.
On the other hand, this could be the other side of the balance and this is the reaction to any of the hideous bad luck I've had lately.
However, I'm a pessimist and pragmatist…so…yeah, I need to keep both eyes open for the next couple days.