Harry, our Friend Of The Blog ™ over at Self Sufficient Mountain Living is still noting the effects of the regional gas shortage. The stations have gas, but only Premium. Fancy that…the only gas they have available is the most expensive. Whoda thunk it?
Speaking of gas, I'm rotating some fuel and saw this at the local gas station: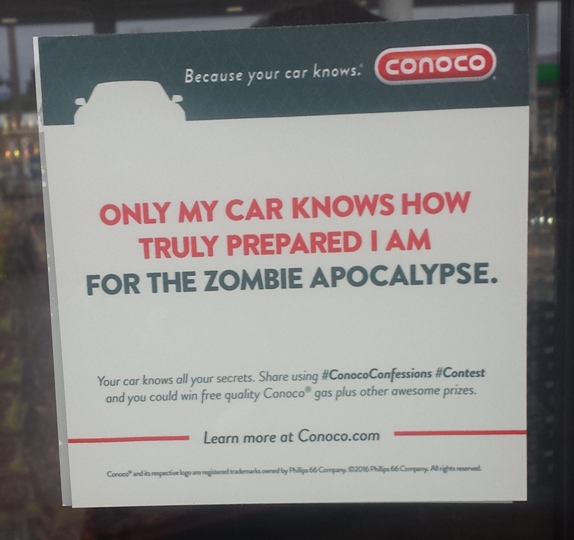 There is probably a lot of truth to this. When I go grocery shopping, I often look in other peoples carts and try to imagine what their lives are like based on the things they are buying. I think you might be able to do the same thing with the things people keep in their vehicle. I knew one person who had a really nice truck, big, spacious, hardcover on the bed….lotsa room. And you could not fit more than one person in that truck because it was full of gear. It was like a rolling showroom for US Cavalry or Brigade Quartermaster. I'm only a tad less subtle than that, but you could look at all the things in my vehicle and make some pretty solid guesses about where my interests lay.
Gas rotation continues….cycling through the 2-3 year old gas and making sure there are no empty cans. As we've discovered, there is no guarantee that the pumps will be running tomorrow, and fuel is right up there in terms of 'things that are a good idea to stock up on'.