My life, broadly speaking, is a swirling cesspool of despair and hopelessness from which no ray of hope can ever escape. BUT…once in a very rare while, Fortuna, perhaps feeling sorry for me, will discreetly put her finger on the scale and tip it in my direction. It doesn't happen often, but it happens often enough, like the occasional royal flush, to make me stay in the game. Case in point, todays totally unexpected surprise: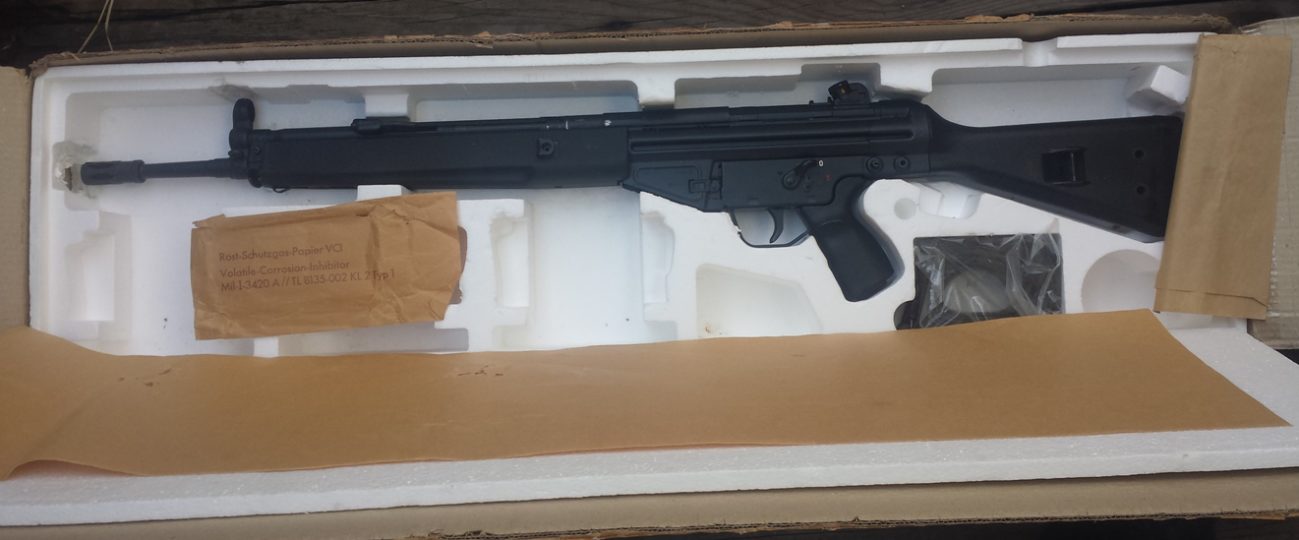 Yes, there is a small patch of wear from where the previous owner had an HK carry handle mounted on the gun, but this is an otherwise unfired, genuine, honest-to-Crom, HK-91 in the box, circa 1981.
A longtime friend of mine came by an announced he was thinning out his collection and gave this thing (and it's bayonet) to me. I've had very few pleasant surprises in my life but this was one of them. I know, I know…most of you are still bouncing the word 'gave' around in your head. Yes, gave. As in "Here is an astronomically expensive gun that most people would have sex with a Cuisinart in order to possess. Take it, it's yours. Free of charge."
For those not in the know, these things were banned from import back in the 80's. Of course, that immediately raised their value and they now trade somewhere in the range of what a decent used pickup truck costs.
Being a fatalist, I am terrified. If something this good happens to me, there has to be something equally bad out there waiting in the wings to balance the scales.
For those who havent figured it out yet, this posts title refers to the 'unooficial' motto of HK.